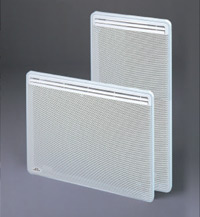 Design:
• The entire body is covered with steel
special alloy and polyester
• White color
• Gently rounded edges
• 2 models: the vertical and horizontal

Heating element:
AIRALU heating element in the aluminum alloy over the whole body conditioning.

Regulation:
Electronic thermostat with a very precise system for regulating the temperature of + / - 0.1 ° C.
Programmable using the pilot system in 6 ways.
Automatic reset temperature switch.

Controls:
Command box located on the upper right side of the back of the device.
Wheel with 5 functions: Comfort, Eco, antifreeze, Off, Programming

Installation:
It attaches to the wall mounting bracket.