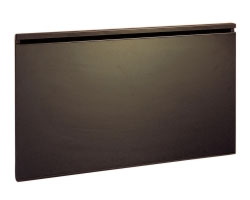 Heating element
• Natural radiation safety glass front panel + full aluminum and high capacity radiation AIRALU heaters.

INSTALLATION
It attaches to the wall mounting bracket.

APPEARANCE
• modern design and assembly of glass purity and quality of steel in black.

CONTROL, PROGRAMMING AND PROTECTION:
• Electronic thermostat with a very precise system for regulating the temperature of + / - 0.1 ° C.
• Programmable using the pilot system in 6 ways.
• Automatic reset temperature switch.